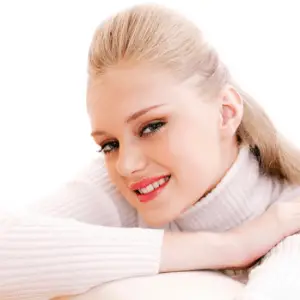 Do you travel a lot? Do you find that you don't have enough time to pamper yourself with a full hair and beauty routine?
If you have been wondering how to look glamorous while traveling if you are lazy, you're not alone. There are many people who use quick beauty solutions, and we're going to tell you all about them.
If you are frequently on the move, it can be hard to maintain your beauty routine. Whether you travel a lot for work or just for fun, you might find it difficult to keep yourself looking glamorous.
Even if you're not traveling and you just can't be bothered to spend so much time getting ready, we have the right answers for you. There's nothing wrong with wanting to have a fast beauty routine. By gathering the essential tools and having a simple routine, you'll always look good, even in a pinch.
Beauty Hacks For Lazy Girl

Hair Style For Lazy Girl

---
1. Beach Waves
A great way to achieve beautiful hair without spending an hour styling it is to get natural waves. To do this, just blow dry your hair after the shower as you normally would and then put your hair in a braid.
Leave it there while you apply makeup and get dressed, and then remove it. Your hair will now have lovely natural waves that make you look like you just came from the beach.
If you want more dramatic curls, you can use your hands to grab your hair after removing it from the braid and scrunching it up to accentuate the curls. For extra hold, try a salt spray product that's known to give your hair beach vibes.
2. Messy Bun
If you can sometimes be lazy, the messy bun is your best friend. This beauty hack is so easy that you won't believe how good it looks. With the right twist of your hand, you'll look like you just came from the hairstylist, when in fact, you probably just rolled out of bed.
And this is nothing to worry about, since messy buns look best on dirty hair. Just don't overdo it. By dirty, we mean going one or two days without washing. So if your friends just invited you to dinner and you've been watching Netflix all day, the messy bun is going to save you.
To do the perfect messy bun, start by making a ponytail. Before completely tying it up, pull your hair until there are a few inches left outside of the hair tie. Then pull the rubber band halfway over the ponytail so that it makes a bit of a division in the bun.
Just by pulling the rubber band over like this, your bun will gain some shape. You can always play around with style or start over if it didn't come out so cute this time.
The last step of the messy bun is to pull on the two parts of the bun to add volume and shape it the way you want. You can also add bobby pins if you need extra support or shape.
Messy buns are great because they are easy to make, and they somehow look amazing. Another cool thing about them is that as the day goes on and they change shape, they continue looking good. The messy bun is a go-to travel hairstyle.
3. High Ponytail
The ponytail is a great hairstyle for many different things. It can be worn casually to places like the gym, but also to fancy events like galas. Depending on how you style your ponytail, you can achieve the perfect look for whatever occasion.
Ponytails are versatile and attractive. They can accentuate your face and compliment your outfit. It's always a good idea to throw a ponytail into your hair routine once in a while.
A good way to make a high ponytail look fancier is to take one piece and wrap it around the rubber band. This gives the ponytail an elegant look and makes the rubber band disappear. If you're in a hurry, this is a quick and easy style that can be worn to formal events.
4. Accent Bangs
While traditional bangs may not be your style, that doesn't mean that you shouldn't have a little bit of hair on your face. There are several styles that can be used to make your face look more flattering, just by pulling a few strands out in front.
One easy hairstyle trick is to take a few pieces of hair and pull them out from behind your ear. Having a piece of hair in front of your ear can make your ears look smaller, and even change the look of your whole face.
Whether you're wearing your hair in a ponytail or just straight down, this trick is great for every style. It's an instant way to improve your looks, and it's really easy. But this is not the only bang style that works for the lazy girl.
Another great way to add beauty to your hair routine is to put your hair up in a ponytail or bun and to leave two strands out on top, on both sides of your face. Start by pulling your hair into a ponytail or bun and then pulling out pieces on either side of your middle part.
When these two pieces hang down, they give your face a softer look, and they make every hairdo look fancier. This is an easy trick for every hairstyle, and it looks fancy.
Both of these unconventional bangs totally change the appearance of your face and hair, and they take no time at all to do.

Makeup For Lazy Girl

---
If you are not the type of girl who wants to wake up every day and put on a full face of makeup, try this simple and quick routine. Makeup takes a long time to do when you cover your face and eyes in beauty products. But you don't have to do that much to look good.
This simple makeup routine only includes three different products and gives a sun-kissed look. By not covering your face in makeup, you can look great in minutes. This look is natural enough to make you look like you're not wearing makeup at all.
5. Mascara
For the eyes, just apply mascara to make your eyes pop and your lashes defined. If you want extra definition, you can always add a line of eyeliner for darker eyes.
6. Blush
Then, add blush to the cheeks for a rosy complexion. Pink cheeks are a beautiful feature, natural or not. This beauty trick will make you look young and pretty.
7. Highlighter
For a finishing touch, apply highlighter to accent your cheekbones and the middle of your nose. Simply brush on a little bit of highlighter for a natural sparkle. This step adds a bit of extra glamour to the quick beauty routine.
With this look, you'll have all the beauty benefits that makeup offers, without having to go to the extent of longer processes like applying foundation or eyeliner. This simple combination is especially useful for lazy girls who have naturally good skin. It allows your true skin to shine through and just gives your face a little perk.
The great thing about simple makeup routines is that they work during vacation too. If all you're doing is putting on some mascara and blush, you can literally do that anywhere. Just because you're traveling doesn't mean you're not going to look fabulous.
With these three makeup components, you'll never again need a full vanity and seven different makeup brushes to complete your look. All you need is a lighted makeup mirror and a few pieces of makeup, and you'll be looking amazing no matter where you are.


Travel Tools For Lazy Girl

---
8. Lighted Makeup Mirror
With a lighted makeup mirror, you can just flip it open, activate the lights, and get a close up look at your face and hair, no matter where you are. This will make all of the following tips that we have for you easy to do and maintain.
Sometimes the hard part about doing your makeup is just able to see your face well. Nobody likes having to use their phone camera to put on mascara. That's why a portable lighted makeup mirror is the perfect solution to super fast beauty routines.
And since they're so handy, you should probably have one at home too. Standing lighted makeup mirrors allow you to sit down at a desk and look at your face and hair closely while you get ready.
It can be really nice to have a daily hair and makeup routine, even if it's a quick one. And lighted makeup mirrors help you see easily and form a steady routine. There are also mirrors available
with a magnifying glass so that you can see the fine details of your face.
9. Cosmetics Bag
The best way to tackle quick beauty is to have a simplified routine that you know will work when you're in a pinch. In order to do this successfully, you should gather a few compact products and put them together in a beauty-on-the-go bag.
Find a pretty cosmetics bag and add all the products needed for your hair and makeup routine. A popular travel product is a dry shampoo, which helps your hair look nice and clean even if it hasn't been washed recently.
This bag should also include all of the brushes needed to do your makeup. Make sure to get a brush blush and a highlighter brush. Then add your mascara for your eyes and some bobby pins for your updos.


Cloths For Lazy Girl

---
10. Clothes
While hair and makeup are essential to a refined daily routine, wearing the right clothing can be another very useful habit. If you want to look like you spent an hour getting ready when you really only spent a few minutes, a good way to do that is to choose your clothing wisely.
These days, there are many brands that offer comfortable clothing that still looks nice. It is best to avoid clothing that is overly baggy or worn out. Tighter, fitting pants and shirts are more flattering.
In order to nail the lazy girl wardrobe, try visiting a store that has flowy pants that look fancy but are extremely comfortable. This trick is especially important for traveling, but it can be beneficial even for going to work.
Pair a tight white t-shirt with a pair of flowy black pants and some cute shoes, and you will look great. Clothing is the final step to pulling off the lazy girl look, but it shouldn't be done just by wearing baggy clothes.
For more formal occasions, try a sundress. Whether you're traveling or not, dresses are great because you just have to slip them on. Pull-on a flowery dress and let your hair flow down for a day on the town, in the airport, or even at fancier events.
Conclusion
If you follow all of these steps when getting ready in the morning, no one will ever know that you can be a lazy girl sometimes. Instead, they'll ask you how you got such a perfect messy bun and shimmering cheekbones.
And if you're going to be traveling soon, you now know everything you need to have a successful trip, where beauty doesn't require sacrifices. All you need is the right lighted makeup mirror and a small bag of travel size cosmetics.
Lighted makeup mirrors are the foundation of all beauty routines. We recommend that you put one on your desk at home and one in your purse. This way, you'll be able to rely on your mirrors to keep you looking great, no matter where you are.
We've talked about everything from hairstyles to clothing tricks. We explained the best simple hairstyles that accommodate any occasion, and we even taught you how to add little bangs to every hairdo. This article has taught you everything you could ever want to know about lazy day makeup and hair.
Simply use these beauty hacks for the lazy girl to achieve the look you've always wanted, without the hassle. I know they say that beauty is a pain, but that's only true for those who haven't read this article.