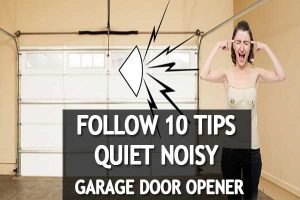 It can be a real nightmare when a garage door makes a popping noise when opening. Sometimes, that rattle noise can be heard in every room in the house. While the noise itself can be really annoying, the source of sounds such as shrieks and squeaks can turn into a more notable problem.
Consulting with garage door manufacturers can be from real help. They can point out the exact problem and show you why a garage door is making a loud noise when closing or opening. Most importantly, they can give you tips to fix the garage door from loud and distracting noises.
There is no need to replace your garage door. Today, there are so many fastest ways to quiet a noisy garage door. You just need to do a little maintenance and everything will be back to normal.
But, let's find out the reasons why the garage door is making noise in the first place.
The rattling sound can be caused by poor lubrication, unbalances garage doors, improper installation or loose nuts;
Scraping noise is usually caused by unbalanced garage doors and that can be easily fixed;
The grinding sound may occur because of loose roller or hinge, poor lubrication, improper installation, opener gear or trolley stripped out;
The vibrating condition of garage door can happen because of poor lubrication on rollers or loose nuts or bolts;
A popping sound can be caused by torsion springs;
Banging noise can happen because of unbalanced garage doors.
As you can see we have analyzed just a few of the most common reasons why the garage door is making noise when opening or closing. When you already detect some of these sounds, it is easy to find the solution.
10 Tips Can Stop Noisy Garage Door Opener
A homeowner is likely to experience a noisy garage door caused by many issues. Using your garage door on a daily basis can often have a hundred if not a thousand nuts, bolts, and screws. Sometimes, you may not even realize that something is wrong until your garage door makes the loudest sound ever.
The most important question that we will analyze throughout our content is how to fix a jerky garage door. There are so many ways that you can implement to eliminate the issues and avoid calling a garage door service.
1. Use a garage door lube.
Make sure to inspect the garage door rollers. They are very important in finding the source of grinding, rattling or squealing garage door noises. The rollers are moving together with the garage door causing damage on each roller's surface. When they are damaged, they can make some annoying noises.
If you find that the reason behind your grinding garage door noise is the rollers, you may need best lubrication to reduce them. Keep in mind that you should avoid lubricating nylon rollers since petroleum can cause damage. If the lubrication kit does not help, then you should replace the garage door rollers.
2. Check bolts and nuts
Sometimes the cause for irritating garage door noise can be loose nuts or bolts. You can check them and tighten them up using a socket set. Once you tighten them up you will stop hearing the irritation noise. Although, It is important to have another pair because sometimes they can break and it will take time and effort to find the best match.
3. Fix the popping sound then opening a garage door
This is the most common issue with garage door noises. Whenever you open your garage door, a popping sound is hearing. The popping sound is not a serious problem for a garage door, but it can require some extra time and effort to fix it. The easy way to secure this common problem is lubricating with motor oil and wipe clean. If you do not know how to do this activity, just call a garage door service and they easily will handle the job for you.
4. Check the insulation strip on the bottom of your garage door
There are cases when a garage door makes loud noises because the insulation strip on the bottom of the garage door is missing or shabby. If the insulation strip is missing, it's certain that you will hear loud banging noises when you close the garage door. The good news is that this part is easily replaced and you can find it in any garage door store.
5. Problems with garage door springs
You can face with a noise that is caused by the garage door hitting the floor too hard. In this case, you are experienced problems with the springs. Springs can be difficult to manage and fix, so usually, this garage door problem is handled by professionals. If they are not installed properly they may fail. Whenever you do a regular garage door checkups, make sure to double check the springs.
6. Problems with the garage door opener
Automatic door openers can cause a real problem. Often, they are the real reason for the garage door noise. You should not avoid the garage door opener issues, because it can cause even bigger problems such as breaking down the garage door while opening and bang to a close. However, the adjustments of a garage door opener are easy and fast. You can fix it by yourself or call a garage door specialist. If the noise uses are vibrations it can be sorted out by situating a metal bar.
7. Spray the garage door hinges
In your regular checkups, see if the hinges are worn out, broken or with dust around them. These are all common conditions and they can be repaired. However, worn out hinges are not as regular as worn out garage door rollers, but they can make an infuriating noise. Spaying the garage door hinges is necessary whenever you notice a cloud of dust around them. It is very useful, especially because they avoid dirt and dust, which can gum things up.
8. Use a rubber as buffers for the garage door and the garage door opener
There is another easy way for a successful garage door noise reduction process. You can take a piece of rubber and use it as buffers for the garage door and the garage door opener. Place a robust ladder under the garage door and rest the door on the ladder. After that just remove the motor and place it on the floor. The rubber is good because can assimilate noisy vibrations. If you are not sure that you can do this on your own, ask for a garage door expert.
9. Check the garage door locks
One of the best ways to reduce garage door noise is to check the locking bars of your door. Sometimes, the lock bar can hit the track and that can cause loud noise when your garage door moves up and down. The grinding noise can be irritating and can harm the door. However, this problem is easy to fix. All you have to do is to find the L-shaped leader brackets that are attached on the garage door and tap the guide up or down. Then, just tighten the screws and bolts and everything will get back to normal.
10. Use nylon rollers instead of steel ones
There are situations when steel rollers can cause more noise than nylon ones. It would be much better if you replace steel rollers with nylon garage door rollers. In this case, it will be easier to fix, and they do not require as much lubrication as the steel ones.
How to maintain the garage door properly?

---
After checking the 10 fastest way to reduce garage door noise when opening or closing, now it is time to check the basic maintenance of a garage door. It is a crucial step to do a proper garage door maintenance as often as possible. Only in that way, your garage door will work properly, correctly and safely.
Some of the few techniques that can make your garage door noiseless are:
Always perform a thorough examination to verify your garage door is in function and can open and close properly
Prefer nylon rollers instead of steel or metal garage door rollers
Make sure to install a belt-driven garage door opener which is better than a chain-driven one
Try to install torsion springs which are better and stronger than extension springs
Hopefully, all these advises will help you to reduce garage door issues. Also, you need a specific tool to solve these technical issues. Tools that you should always have to fix your garage door are:
Different type of screwdrivers
Adjustable wrench
Socket set
Lubrication kit
Wrench set
Impact driver
Together with the tools, you need to have materials ready ahead of time. Some of the required materials are:
Nylon rollers
A new pair of hinges
Fender washers
Lag screws
Rubber anti-vibration pads
Garage door lube
This is everything you need to know if you want to get rid of any garage door problems. There are plenty of other methods that you can implement and solve the technical problems with the noise of your garage door. However, following these tips and shopping for the necessary tools and materials can help you diagnose the problem and deal with it quickly and easily. If you cannot do by your own always invest in garage door experts to do annual checkups and make sure that your garage door function properly.