Disclaimer: There are affiliate links in this post. At no cost to you, I get commissions for purchases made through links in this post.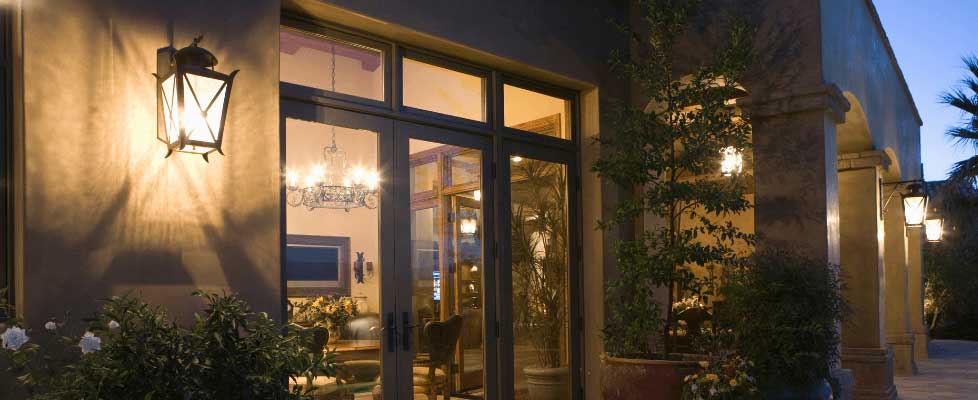 Is your outdoor space just a bit too dim? Are there details of the yard that you want to show off, even in the evening? Every outdoor space can be enhanced by illuminating the area and make it more welcoming and enjoyable, or even just more functional. Solar lights are the perfect addition to an exterior environment, since they are low maintenance and mostly run on their own. When shopping for outdoor solar lights, you want to find something with the right style that will blend into its surroundings, providing just the flare of light that was missing to brighten up your space.
Because there are so many different products to choose from, we are consolidating the best rated outdoor solar lights so that you will know exactly which one is right for you. This is the perfect place to search for your lights because it includes all of the various types of outdoor solar lights and all of the information that you need, while presenting you with the very best rated products for you to choose from. After reading this, you will have the answers to all of your questions and you won't need to look anywhere else. Scroll down to read the full article and then you'll be ready to make your purchase.
10 Types Of Outdoor Solar Lights
Garden and Patio
Product Name: DrawGreen Solar Security Lights
(Click Image to Learn More)
Shop now at Amazon.com
If your space needs not only light but also a security factor, try DrawGreen Solar Security Lights. Their sleek body and motion sensor operation will give the impression that the area is under constant surveillance.
Best For: These solar security lights add a very professional look to whatever surface they are installed. Buy these if you are looking for a direct spotlight to brighten up a particular area, rather than giving off general light to the whole room.
Design: This DrawGreen product is made of a sophisticated, skinny black light with a solar panel attached to the top. It screws in against a flat surface.
Suitable Place: Ideally, this light would be used for the exterior walls of a house or other building. Mount it near the corner, and it will give the impression that the building is under surveillance, for security reasons.
"PROS:"
Powered by a motion sensor that enables light to switch from auto-dim to super bright light during the night.
Patented LED light that is extremely bright
Made of an aluminum alloy shell that is more durable and can be used for three to five years
Innovative design provides security simply by its intimidating appearance
"CONS:"
Must replace the rechargeable lithium battery after 70-100 weeks
Light remains on all night, getting brighter when motion is detected.
Outdoor Landscape
Product Name: LITOM 12 LED Landscape Spotlight
(Click Image to Learn More)
For a sporty look, install the LITOM Landscape Spotlight. These lights are durable-looking, bright, and compatible with both summer and winter weather, as they are waterproof, heat resistant, and frost resistant.
Best For: This landscape spotlight is ideal for those who may want to install lights in various areas around their space. Perhaps you want a few spotlights in the grass, and others along the side of a building. Choose this light for installation flexibility.
Design: These are stake lights, so they have a long rod that gets pushed into the ground, while the LED light projects outward from the triangular head.
Suitable Place: This durable light is suitable for large outdoor grassy areas, but can also be installed in snow, for brightness during winter months.
"PROS:"
Comes with screws for a second installation option of mounting to the wall
Resistant to weather conditions
Has two modes activated through the power button, low light, and high light.
"CONS:"
Not the prettiest design
The battery is not replaceable
Solar String Lights
Product Name: Brightech Ambience Pro String Lights
(Click Image to Learn More)
If you want solar lights that will add style to any backdrop, choose Brightech Ambience Pro String Lights. These fashionable bulb lights are classic and fun.
Best for: These string lights are the perfect addition to get-together spots like an outdoor kitchen or a campfire. The vintage hanging Edison bulbs are simple yet appealing, and will look great in any setting.
Design: This Brightech product features Italian Style bistro lights. Brightech specializes in realizing your design dreams, so these lights will make your ideal outdoor escape come to life.
Suitable Place: These lights look amazing against green backdrops. Try hanging them around the branches of a tree for a natural glow in your backyard.
"PROS:"
Simple installation
Improves the look of its surroundings
Displays vintage Edison bulbs
Requires two AA batteries
Attached solar panel must be staked in the ground
Front Door
Product Name: LITOM Lite 30 Motion Sensor Light
(Click Image to Learn More)
For bright infrastructure around the house, buy LITOM Lite 30 Motion Sensor Light. These square lights are the perfect exterior wall staple, and they give off a nice light when triggered by the motion sensor.
Best For: This LITOM model is a really good staple for the exterior of a building. These lights are designed to add functional lighting to every corner of your house. The motion sensor is a useful tool that adds a security dimension to this product. This is a pack of four individual lights.
Design: This light is compact and efficient. Its square body holds an upward facing solar panel and a downward facing light. The casing is black, with a blue solar pad and a white light. Within the light, there is a motion sensor that can detect movement up to 120º degrees wide.
Suitable Place: The LITOM Lite 30 can be added to the exterior of a garage, the front of the house, or any wall. The x-shaped illumination gives an attractive glow to previously dark sides of the house.
"PROS:"
This light has a lifespan of 18,000 hours, which is twice as long as some comparable brands.
It operates on one sensor mode, which charges during the day and lights up for 30 seconds when motion is detected at night.
The light has a very wide angle of 270º.
Has a three percent higher solar conversion rate than others on the market.
"CONS:"
Requires nail installation, or buying double sided tape
Not the most attractive style
Walkway or Driveway
Product Name: BEAU JARDIN Pathway Stake Lights
(Click Image to Learn More)
If you are looking for yard lights that are simply beautiful, these BEAU JARDIN Pathway Stake Lights are the ones for you. Made of glass and silver, the stake lights are a great way to light up a pathway or garden during the evening.
Best For: These stake lights create an intricate flower pattern of light on your lawn. Beau Jardin means, "beautiful garden" in French. That's why this company is committed to making your garden beautiful with these futuristic accents.
Design: These lights have a captivating design, made of a combination of a sleek silver body and a honeycomb glass surrounding the light. The solar panel sits on the top of the stake light.
Suitable Place: Because these are stake lights, they must be used somewhere where they can be pushed into the ground. This model makes a beautiful accessory to line a pathway with.
"PROS:"
After fully charged, they light up for 10 hours during the summer and 5 hours in winter.
The silver makes these lights attractive and luxury-looking.
The warm white colored lights come on automatically and are wireless.
Must be careful when installing not to put force on the solar panel at the top
Some customers the lights stop working after a while
Fence Post Lighting
Product Name: OTHWAY Solar Fence Post Lights
(Click Image to Learn More)
Do you want a light that provides more than just illumination? OTHWAY Solar Fence Post Lights have a sophisticated shape that projects a halo of beautifully textured light. This product is a nice accent to fences and other surfaces.
Best For: These OTHWAY solar fence post lights are best for adding to existing infrastructure, like a fence. The unique design is shaped like a half-moon and gives off a beautiful shapely white glow.
Design: This light almost resembles a golf ball. It is flat on top where the solar panels sit to collect sunlight, and rounded on the bottom side where the light sits. The honeycomb texture of the plastic light cover is what gives the illumination a nice pattern.
Suitable Place: These post lights look really good against a wooden fence and are a bright addition to an area that needs wide-shining light.
"PROS:"
Go off automatically to charge at daytime, come on automatically at night
Texture of light cover gives off an attractive light pattern
Very bright
"CONS:"
Uses two screws to mount the light
Inconsistent lighting sometimes, according to some customers
Decoration Lights
Product Name: AMIR Copper Wire String Lights
(Click Image to Learn More)
Are you dreaming of fairy lights for your backyard nook? AMIR Copper Wire String Lights might be just what you're looking for. This model focuses on giving off warm light illumination, with minimalistic supplies. The color and design of this product make it the perfect accessory for your outdoor space.
Best For: Any evening instantly becomes a starry night with these shining string lights. They are a beautiful way to turn any space into a cozy hangout spot for romantic settings or brilliant backdrops.
Design: The subtle lights are woven into flexible copper wire and shine a warm white light for a more intimate environment.
Suitable Place: The lights can be hung to cascade downward among the trees or intertwined with existing things like bushes and railings.
"PROS:"
Lights are distributed on a copper wire that is flexible and almost invisible, making for a more brilliant glow
Makes every space feel magical
Good choice when more subtle lighting is desired
"CONS:"
Attached solar panel must be staked into the ground
Not a very large set of lights
Hanging Lantern
Product Name: MAGGIFT Shepherd Hook Lanterns
(Click Image to Learn More)
If you are looking for a lot of style in a little light, try MAGGIFT Shepherd Hook Lanterns. These lights look great in just about any environment. Line them up along a pathway and watch the entire space come to life.
Best For: These elegant hanging lanterns can take any outdoor setting and turn it into a magical space. The shepherd hook design will make you feel like you are riding in a horse drawn carriage down the lit pathway.
Design: This MAGGIFT product has an industrial style, with small sophisticated lamp and a simple black shepherd hook. The light uses a stake to lodge into the ground.
Suitable Place:
These shepherd hook lanterns will look beautiful no matter where you put them. Try lining a pathway with them or even placing them among flowers in a garden for admiring flowers even at night.When installing, remember to remove the insulation trip before the first use.
"PROS:"
Easy installation; simply stick in the short stake of the thin pole and then hook on the lantern.
Give an exquisite style to any environment that you put them in
Small bulb with big style factor
"CONS:"
According to brightest solar path lights reviews, these shine at 2 lumens per light, which is not very bright but more for decoration
Requires two AA batteries
Step Decks
Product Name: XLUX Step Deck Lights
(Click Image to Learn More)
If your focus is functionality, maybe XLUX Step Deck Lights are the ones for you. For lighting up a staircase, this product is perfect, especially because it's not bulky. The triangular design and realistic application makes this model a great choice.
Best For: These step deck lights are the best for outdoor stairways that need more exposure during the dark. This is a great alternative to having to install an overhead light above the stairs, and it adds a comforting glow to the exterior landscape.
Design: The triangular design gives an innovative look to any location. The upward-facing portion features four solar strips, while the downward-facing side illuminates its surroundings with a warm tone LED light.
Suitable Place: These stainless-steel lights will add a futuristic look to any staircase. Conveniently, this product can also be installed on fences and other flat surfaces, so you can use it anywhere you want if you simply like the sleek body.
"PROS:"
This purchase comes with six lights.
The light color has a warm tone for a more welcoming vibe than a regular LED which can sometimes be too blindingly white.
Despite being labeled as step deck lights, these LEDs can also be used in other areas like fences.
"CONS:"
Each light requires a triple A battery
Must be screwed into a surface
Garden Ground
Product Name: Biling Solar Disk Lights
(Click Image to Learn More)
For illumination without distraction, buy Biling Solar Disk Lights. Once staked in the ground, these circular solar lights can hardly be seen. They project light upwards and add a nice touch to any outdoor area.
Best For: These lights are barely visible yet they give off lots of light. Their minimalist facade makes versatile and functional. The disk lights are best used in an area where you don't want to distract from the environment, so you add light without compromising style.
Design: The short stake design allows these lights to be fixed in the ground without needing to be pushed into the ground too deep, making installation easier and avoiding excess damage to the grass.
Suitable Place: These disk lights can be used to light pathways, grassy areas, and even concrete areas. They can be used on steps and other hard surfaces, as they can be installed without the spikes if desired.
"PROS:"
This light is hardly visible, as it simply illuminates from the ground up.
These disk lights are durable and can withstand up to 220 pounds if something falls on top.
This model is wireless and very simplistic. Just push into the ground and enjoy the natural-looking light.
"CONS:"
Not the brightest light for illuminating large spaces
Made of plastic
Things To Consider When Buying
Location
Where are you going to put your lights? Based on their specific design and function, each of these products has a place that they work best in. If you want to put lights up in the corner of a wall, you should choose one of the lights that screws in and will expose the area below it well. If you like the idea of putting lights among the branches of a tree, buy string lights and make your tree sparkle. If you want to line your pathway, get one of the stake light models. And if you want light without having to see the device, choose the disk lights that are basically invisible. The environment that you are wanting to light up tells a lot about the right product to buy.
Function
Why do you need solar lights? Considering the most important element of your ideal lights is essential to pointing out the best choice for your outdoor environment. If your main objective is to provide added security to your home, then you should buy lights that are powered by motion sensors. If you need added exposure on your front steps, choose the step deck lights. If your main priority is aesthetics, consider one of the string light options. Knowing the reason for your solar light purchase will make it much easier to know which one is right for you.
Exposure
Do you have a sunny spot in mind? These lights will not work optimally if put in the shade. They rely on consistent sunlight to continue producing bright light output. Solar lights don't need an extreme amount of light every day, but they typically work better when they get a full day of sun. If you are looking for outdoor lights for an area that doesn't get much sun, solar lights might not be the best option. Try to think of a place for your lights where they will be exposed to the sun during the day so that they can shine with full brightness at night.
Duration
Do you want your lights to run all through the night? Or do you prefer for them to just turn while you're passing by? If the idea of having lights on all hours of the dark seems wasteful to you, consider one of the products that is powered off and on by a motion sensor. That way, they will only light up for a moment before going dormant again. On the other hand, for situations like adding light to a pathway, a light that stays on in the dark may make more sense. Some of the more steady light options are string lights and pathway lights. These will provide consistent brightness, both for decoration and functionality.
Batteries
Are you prepared for battery recharging? Make sure to check the battery requirements before purchasing, so you know what kind of future commitment the lights will entail. Some lights require that you regularly add double A or triple A batteries, while others call for recharging of the lithium battery that comes with the light. Regardless, some battery is usually included in the purchase. Consider the long term obligation of the charging situation.
Brand
Who makes these lights? It's always a good idea to make sure you are buying from a reputable company. While high-quality lights can come from small brands, well-known brands are more promising. Look into the brand of the product you are considering buying and see what they stand for, what they specialize in, and how customers feel about them. If it's a good company, it's probably a good light. If you know what a company typically delivers, then you will know what you can expect from their lights. Learn about the company behind the product to understand even more about the lights they sell.

Choose the model with the best style: If you buy the light that looks the coolest to you, you will be more likely to be satisfied once it's installed. A simple design can change the look of an entire space. This light could be the feature that will bring your environment to life, so buy the one you like the most. While style is not everything, it is an important factor.
Be diligent with maintenance: If you don't know when the lights need attention, you won't understand why they are suddenly getting dimmer. Some of these lights have rechargeable lithium batteries that need to be taken care of on a regular basis. Know how often the battery needs to be charged if it has one, and do it regularly. Why not add it to your calendar? If you slack on maintenance, your lights will start to slack on brightness.
Ensure proper installation: Whether the lights get screwed into the wall or pushed into the ground, make sure to do it well. You don't want to go outside in the morning to find your stake lights lying around in the grass. With some lights, you'll need to take other preparation steps like removing the insulation trip before the first use.
Know the color of your lights: The desired color tone may change depending on the environment. Warm white light looks elegant in more intimate spots, whereas white light can look brighter and give more exposure. If you are buying lights more for security and functionality, you should go with white instead of warm white, to ensure that you get the maximum brightness possible. Make sure to buy a light that gives off the right kind of glow for your expectations, and matches the needs of its environment.
Read reviews on the product to know what to expect: Sometimes, the main characteristics of a product are not obvious simply by reading the description. Thankfully, many people have bought the same products on Amazon and have left reviews for you to read. Even the customers whose purchases didn't turn out so well are there for you to see so that you can understand how the lights work. Before purchasing, read about how the lights have worked for others and where they chose to install them. After reading, you will understand the kind of result that particular product would give to your outdoor environment.
Know what kind of installation you want: If you are only willing to tape up the lights, you are limited to the models that have a flat back, and you will probably need to buy double-sided tape to install the lights. Contrarily, if you prefer to screw in the lights for more durable installation, then choose from among the options that come with screws. That way, you can receive your lights and drill them right in for long-lasting light fixtures. If you don't want to have to go through an installation process, buy string lights or stage lights, which can just be hung on existing things or pushed into the grass. Knowing how you want to apply the lights will narrow down your options and help you find the best model according to your preferences.
1. How do solar lights work?
Solar lights use solar panels to collect energy from the sun and power the lights, instead of using energy that we pay for. This is called the photovoltaic effect, where solar panels convert sunlight into direct electrical current, which powers the lights and stores energy from the sun during the day. If you're into natural solutions, solar lights are a great purchase for you.

2. Why LED lights?
These models use LED lights because they can produce a lot more light (measured in lumens) using much less energy. LED lights are brighter, more efficient, and better for the environment. Also, since some of these products provide warm white tones, you won't have to worry about the lights being overpowering if you are looking for something more subtle. If you want less power, go with a warm white light.

3. Do they require batteries or charging?
Some solar lights come with lithium batteries that need to be recharged every few months. So for these models, you don't have to buy new batteries and replace them, but you do have to charge the original battery every once a while.

4. Do they need to be plugged in?
Solar lights don't need to be plugged into an electrical outlet, as they use energy from the sun. Nonetheless, some are not completely unbound because of an attached solar panel that needs to be staked into the ground.

5. What happens if the sun doesn't come out?
If the sun doesn't shine on a particular day, that doesn't mean that your lights won't turn on, since solar lights store collected energy. After a cloudy day, your solar lights will still work that night, but they may not be as bright as they would after a sunny day.

6. Do solar lights save energy?
Kind of; but they definitely save money. Solar lights don't use the traditional electrical energy that we have to pay for. They take energy from the sun to power themselves, rather than using fossil fuels. This means that they still use energy, but they use renewable energy from the sun rather than depletable resources like electricity. So you won't have to pay a solar light energy consumption bill.

By now, you have probably spotted the model that suits you best. Congratulations, you did it! You learned basically everything there is to know about outdoor solar lights, and you are now familiar with the very best ones on Amazon. Each of these best-rated products has a unique design and fits perfectly in a distinct environment. The choices range from fashionable to functional. By focusing on both your style preferences and your realistic needs in terms of solar illumination, it's easy to find the model that's right for you.
All of the best solar lights are here for you to choose from, whether you are looking for a more durable light to stick in the grass and illuminate your land or a sophisticated string of bistro style lights to brighten up your back porch. Additionally, you've learned about the important things to consider when shopping, and other tips to keep in mind. Solar lights are a smart solution for any kind of exterior lighting. Now that we have looked at the best rated outdoor solar lights, you've read everything there is to know about your purchase options and are ready to get some lights set up outside. It's time for some solar exposure.