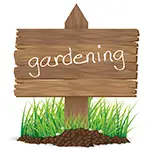 There are tools that you will hardly need, there are tools that are good to have, and then there are tools that are essential. A proper gardener needs some professional gardening tools to start with, that can do the job without wasting much money.
Eventually, you might feel the need to buy more specialized tools as you continue gardening for a long time, but here we are only focusing on the necessary ones.
This article will guide you through the gardening tools that you must have if you are planning to, or already doing gardening.
10 Essential Gardening Tools

---
1. Garden Hoe

---
(Click Image to Learn More)
A hoe is the first thing that you need for gardening tools list. It has been used since ancient times; this versatile hand tool will make every gardener's life easier.
Hoes with long handles are better to work with this.
You can accomplish several important tasks with a Garden Hoe. From removing weeds when they are just starting to grow, shaping soil and digging a furrow. You can do a lot more with a Garden Hoe. You can find hoe head with many sizes, be sure to pick the one that will suit your need.
If you want to buy a garden hoe for light weed removing purposes, then Flexrake 1000L can be an ideal hand tool for you. 1000L hula is very easy to maintain, and it's a potent tool. This weeding hoe comes with a 54-inch handle, Handle made of hard and sturdy wood.
1000L Hula-Ho is made of real design; there is no reason to worry about its sharpness. It is designed in self-sharpening and replaceable ways. Overall, this Hula-Ho is capable of removing the weed from roots.
2. Garden Spade

---
(Click Image to Learn More)
Don't confuse it with long-handled shovels, an ideal Garden Spade is short handled, with the square-shaped blade attached to it. We deliberately omitted shovels from our list, because to scoop up soil and compost, spreading fertilizer or manure all ever needed was a specialized garden spade.
You can do all the stuff like making straight edges on garden beds, chopping back grass, cutting open bags of potting soil, and loading compost into your soil with this precious tool.
Choose your shovel based on two main factors, they should have a comfortable grip and solid-strap connection. Because you are going to use this tool for a long time, and you will obviously need the extra comfort and durability while using this.
The 4450DS Digging Spade would be the perfect addition for your Garden. It is made of hardwood so that you can use it for heavy work. And it is possible to use continuously for a long time because of being strong. The interesting matter is that after using the tool, there is no problem with the care of your digging Spade because it's made of stainless steel. This blade has very minimal soil adhesion.
The hardwood handle polished with the weatherproof finish, which increases the stability of handle so that you can use it in all seasons. And it's easy to use because of its lightness; its weight is only 4.03 pounds.
3. Garden Fork

---
(Click Image to Learn More)
There are two types of Garden Forks around, and they are different in their usage and size. The small one, Cottage Fork is the one you'll hardly need. And the large Digging Fork is a necessity in any garden.
Digging into the soil without ruining your crops like potatoes, garlic, yams, canna rhizomes or dahlia tubers and bring them up in one piece.
Many people tend to use Spade for this job, but you will always have a chance to cut through the crop. Unlike spade, it can loosen and lift soil without damaging it. It will be a beneficial addition in your garden tools for sure!
If you are a homeowner, then TABOR TOOLS is obviously a known brand to you. It is a popular brand in the hand tools market. J59A Steel Digging Fork is an awesome hoe tool from this brand. For the convenience of soil digging, it has a 4-tine digging fork, which can break the rough soil. It has been made with hardened steel, so it is unlikely to break.
As a professional gardener, you can prefer this tool for lifetime use. The heavy-duty digging fork grip allows you to use these tools for your personal or business projects effortlessly. Be sure, and it will assist you in any kind of excavation work; therefore it's like a best friend for your gardening work.
A special advantage of the tool is its D shape handle; it will keep your wrist neutral position which will help you to work for a long time. There is no possibility to slip the handle. This is the proper tool for using comfortably.
4. Garden Rake

---
(Click Image to Learn More)
Like the Garden Fork, there is also two kinds of Garden Rake available. A landscape rake and a leaf rake, both are essential in their respected application.
While the bigger brother leaf rakes are used to take out leaves from your garden surfaces, thanks to its widely spaced tines, you can use it to move things like leaves, fallen fruits, and pine cones easily without hurting the plants beneath.
On the other hand, smaller in size, the landscape rake is usually used in a different task altogether. Its primary objective is to level soil to create a new garden for vegetables or flower beds. It's important to choose the one with the right length of handle according to your height, and else you may find it hard to use.
For homeowners and gardeners, Rake is an important tool, especially in which the garden has large trees; it will play a vital role to clean the tree's leaf. It has a 63-inch telescopic handle and your bending down will take less due to the quite big handle. This will reduce your fatigue even you work for a long time. Moreover, this rake is designed with a 23-inch curved head, which can gather up much debris together.
The rake's handle has made with aluminum, so it is very lightweight, and comfortable to use. The handle can be compressed and expanded, so it is also very easy to store. Using the versatile tool, you can easily work for a long time.
5. Garden Scissors

---
(Click Image to Learn More)
A Scissor is a must-need tool for any gardener. You can use your regular household scissor in place of Garden Scissor, but you'll need one always while walking along your garden, be it specialized Garden Scissor or your normal one.
We, professional gardeners, keep scissors in our pocket all the time. From deadheading flowers, snipping herbs or prune smallest of plants, you'll need your garden scissor every once in a while.
This is an exceptional cutting tool for gardening which makes with 2-inches sharp blade. Using this scissor, you can do the trimming work perfectly; therefore you will not be tired if you work a long time yet.
This scissor is quite suitable for long use; its handle has been made of bamboo and blade with rust-resistant steel. As a result, this blade does not require maintenance; just continue your work with comfort.
6. Secateurs or Pruning Shears

---
(Click Image to Learn More)
Secateurs or Pruning Shears, whatever the name you like to give, it is an essential gardening tool. You can find two types of Pruning Shears, Anvil Pruners and Bypass Pruners. When do you need them?
Rogue plant getting out of control, and taking over others? Anvil Pruners. Deadwood and can cause crush injuries to fresh, green stems and branches? Bypass Pruners.
Before buying pruning shears, you have to keep in mind two things. The comfort factor, if they fit into your palm or not. Then the most important one, they need to be sharp enough to give you service for a long time. You also need to choose one that can be sharpened regularly for a cleaner cut.
Now we are going to mention you the great trimmer, it's an all-rounder trimmer. You can do some types of cutting work with this sharp trimmer. The pruner's body and the blade both are drop forged. So it's fully non-slip. The Pruner blades have been made with high carbon steel, and Ultra-fine Polishing Technology has been applied to the blade.
This ergonomic pruner is so efficient from all side. It is comfortable to use because it is lightweight and sturdy. You will be able to cut 3/4″ radius tree branches with this pruner. I think every gardener should have this tool because it is made with high-quality metal, so you can cut with it all day. We highly recommend you to buy this pruner.
7. Wheelbarrow

---
(Click Image to Learn More)
A Wheelbarrow will not just be a useful addition to your garden tools but a must-have one.
You will need to move soil around your garden, you will need to put compost over garden beds and a lot more things that need some carrying around. And who better than a Wheelbarrow can do that!
As important as it is, doesn't just jump around and buy a plastic one as they are vulnerable and don't last long. Whereas a metal one can carry a heck lot more than them and last longer too.
It is very important to have a cart for the lawn owner; I think every gardener should have a cart. There is no alternative to the cart to carry anything. It's very easy to assemble; you can assemble it in the maximum 45 minutes. The cart would be the best friend in your gardening.
It is very lightweight and strong, you can use for transferring your gardening equipment or fertilizer. And its most important feature is that it can be used in woodland or mountainous roads. The cart's wheel is made with rubber to pull it smoothly in any environment. This car made with polypropylene plastic and it can carry around 300 pounds. You can purchase this cart for long time use.
8. Garden Hose

---
(Click Image to Learn More)
You already know what a Garden Hose or simply a hose does. To keep your plants alive and growing, you need to water them regularly.
If you have a big garden, with vegetables, you will need a lot of waters, and in that case, a small watering can not be enough.
Choose the hose pipe length according to your garden, and choose one that's more flexible and rubber made.
There is no alternative of watering to keep fresh your crop. In this case, Garden Hose would be the perfect solution for you. By using this 50 ft-length pipe, you can irrigate the water at 40 feet away.
You can stretch or shrink the hose. Apart from this, there are several other important features of this hose pipe. The new model's hose pipes can spray water in 10 patterns including CENTER, JET, 1/2VERT, SOAKER, FLAT, SHOWER, CONE, ANGLE, MIST, and RINSE. The patterns are adjustable and spray at very fast. This hose pipe comes with a 12-month guarantee and 60-day money back offer.
9. Watering Can

---
(Click Image to Learn More)
If you don't have a large garden, rather a small one with only flowers. Would you still need a water hose? Or, a simple watering can do?
The answer is, you might not need a big, long water hose for a small garden. Watering cans will help keep your plant more healthy and lush green always.
You need a galvanized metal can work with good handles that can make carrying and pouring water easier.
This is an important watering can for irrigating your lawn. You will be able to irrigate on the land carry it on your hand. It has been made with heavy-duty plastic; you can use this can for a few seasons. It comes with 3.2-gallon water carrying capacity, lightweight & well balanced Water Cans is suited for your small lawn.
10. Gloves:

---
(Click Image to Learn More)
Being a gardener does not always mean that you will have to be dirty all the time.
Choose Garden Gloves that will not just keep you off from dirt while you work in your garden, but also protect you from many bacteria, and of course disease! Choose a pair, that is comfortable, preferably one that will extend to your elbow.
Gloves are an essential element for gardeners, and it plays a major role in protecting hands and skin. The gloves will keep protecting the hand from any friction and water, it is waterproof. You can use these gloves, during the rainy season.
The glove comes with a very comfortable and flexible design. It's not only for gardening, but also you can use for the household work.
Conclusions
Be it your hobby or profession being a Gardener is no easy task. But what makes gardening enjoyable is the result of all the hard work. You will never be happier than seeing your garden full of flowers or crops, after days or months of dedication. Beside 10 tools , soil meter is very helpful tool. For that we have added 10 soil meters reviews in our blog.
But like all the other job, gardening also needs some set of essential garden tools. Some of them are used since ancient times, and some of them are new. Our experience in gardening makes it easier for us to inform you what are the essentials of all of them. If you are new or pro to gardening, these tools will fulfill all your needs.